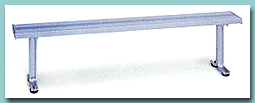 HEAVY DUTY CAST IRON PEDESTAL DESIGN
provides solid footinq for plastic laminate or laminated hardwood tops.

Aluminum Pedestals
are sold seperately, and can be used with wood tops for free standing or moveable installations.

ANODIZED ALUMINUM DESIGN
combines sleek, contemporary look with strength and durability. Plus, the versatility of 4 popular sizes with adjustable pedestals. Rust resistant, anodized aluminum is light, yet incredibly strong and easy to maintain in almost any environment. One piece bench stands are secured to pedestal base with adjustable clamps. Rounded edges and center traces provide comfortable, skid resistant seating. Use as portable bench or install as a fixed position unit.