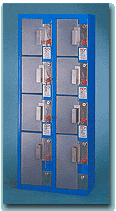 Ennho Wallet and Purse Lockers
Ennho cabinets are factory welded and constructed of zinc coated steel or stainless steel. The cabinets are made in individual columns and are connected together in any combination of equal height lockers with 4 bolts which are provided with the lockers. The doors have continuous (piano type) full height hinges. The doors are resistant to twisting due to a design feature unique to Ennho. All doors are self closing against rubber bumpers.
A special model is available that accepts coins for free use only and then refunds the coins upon return of the key. They can also be set for key only operation. The door can be opened or the coin-lock mechanism can be removed from the cabinet by simply unlocking the control lock using a master key. This can be done whether the customer lock is locked or unlocked and allows the attendant access to the locker compartment without the customer key.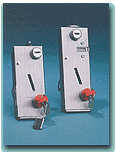 Ennho Standard and Metered Coinlock Mechanisms
A mistake proof coin loss prevention device makes the inserted coins stay in place till after the key has turned and has been withdrawn from the lock and thereby preventing the customer from losing the coin fee by unknowingly turning the key back to the unlocked position immediately after locking. Another device prevents the lock from locking unless the door is closed.